2nd Annual Ubeercross Epic Cyclocross Ride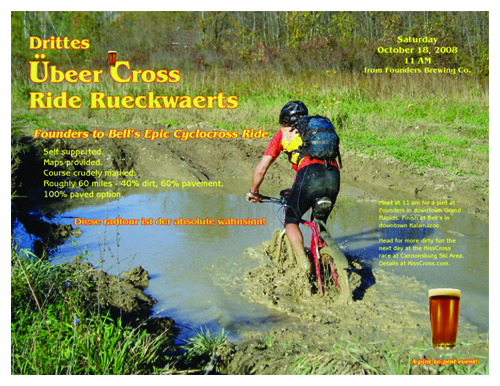 Jason Roon sent me the flyer for the October 18th 2008 Ride. This year we are starting at Founders at 11:00 AM and riding to Bell's. Whew that's convenient for Kazoo crowd! Last year we took a long time, somewhere around 6 hours, but we were playing in the mud for at least two hours. I would plan on at least 4 hours ride.
Last year was truly epic. We had beautiful weather, plenty of mud, and 40 miles of trail. Though 60+ miles in total it was the best time I'd had on a bike ever.
My report from last year tells a gruesome tale of mud, fun, and beer, if that doesn't sell you I don't know what will.
Looking forward to seeing you there!