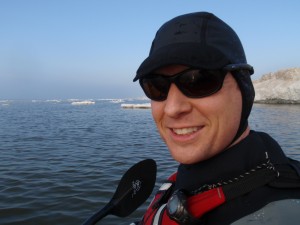 John moved from Colorado to Michigan in 2001, with a background of climbing, telemarking, mountain bike racing, trail marathons, and canyoneering.  It took several sedentary years in grad school before John finally figured out that many of the best opportunities for adventure in the Midwest involve water.  He started sailing a "well-loved" catamaran and paddling a cheap wanna-be sea kayak.  He quickly learned how expensive sailing can be, even though he typically observed the best sailing weather from his office window.  After that exercise in frustration, the catamaran now only goes out a couple times a year on the local lake with the kids.  Buying his first proper sea kayak, John eventually discovered the huge range of activities and conditions that can be explored, from work-outs in placid conditions on inland lakes, rolling and rescue skill development, tempting fate on the local river above flood level, to exploring just about any combination of waves, current and wind imaginable out on the great lakes.  John has become a much happier Michigander. 
John has the BCU 3 Star Sea rating, and plans to pursue the 4 Star Leader Sea award in the coming year.  He wonders if it is feasible to create coaching opportunities in the SW lake Michigan area (can a kayak be a tax-deductible expense?), or if he should just focus his attention on his kayaking friends and his family. 
John lives near Kalamazoo, with his wonderful, tolerant wife and three young children.  His oldest kids are just getting big enough to really enjoy their kid-sized sea kayak.
P.S.  For better or worse, John now owns a surf kayak.  He can frequently be found in his office, watching the best surf conditions via webcam.