Sturgeon Bay – Gray's Reef light – White Shoal light – Waugoschance light – Temperance Island
8/26/10
posted by John Fleming
The Endbridge Oil Kalamazoo River disaster  put an abrupt end to my usual midweek upstream-paddling workout.  If I could smell the oil, I wanted to either help somehow, or get the hell out of town.  But there are no volunteer clean-up opportunities for public citizens.  So my oldest daughter and I took the only available opportunities to help setup at the animal recovery center, and then go North.  We were fortunate to be able to spend most of August in Charlevoix, northern lake Michigan.  I took my kids on daily 'death marches' that I hope they remember fondly in hindsight, discovered a brand new shipwreck at Sleeping Bear Dunes, and snuck away for a few solo paddles.  It was a good time to be up North, as the water was much more lumpy up there than down South. 
I was fortunate to wind up the season with two surf days and three marathon length day solo trips.  (I even found a rare lake Michigan offshore break, but I claim it as my turf and will beat you up if I find you there…)  I was never able to track down any paddling partners.  In three weeks, I probably saw two hundred pungo-type kayaks in J-cradles around Traverse City and Petoskey, but only three "real" boats. 
My last trip was off of beautiful Waugoshance Point , a true gem of the Michigan's lower peninsula.  The 5 mile paddle from the Sturgeon Bay launch to the tip of Waugoshance Island is stunning.  Mile after mile of shallow bays, shoals, rocks, sea birds.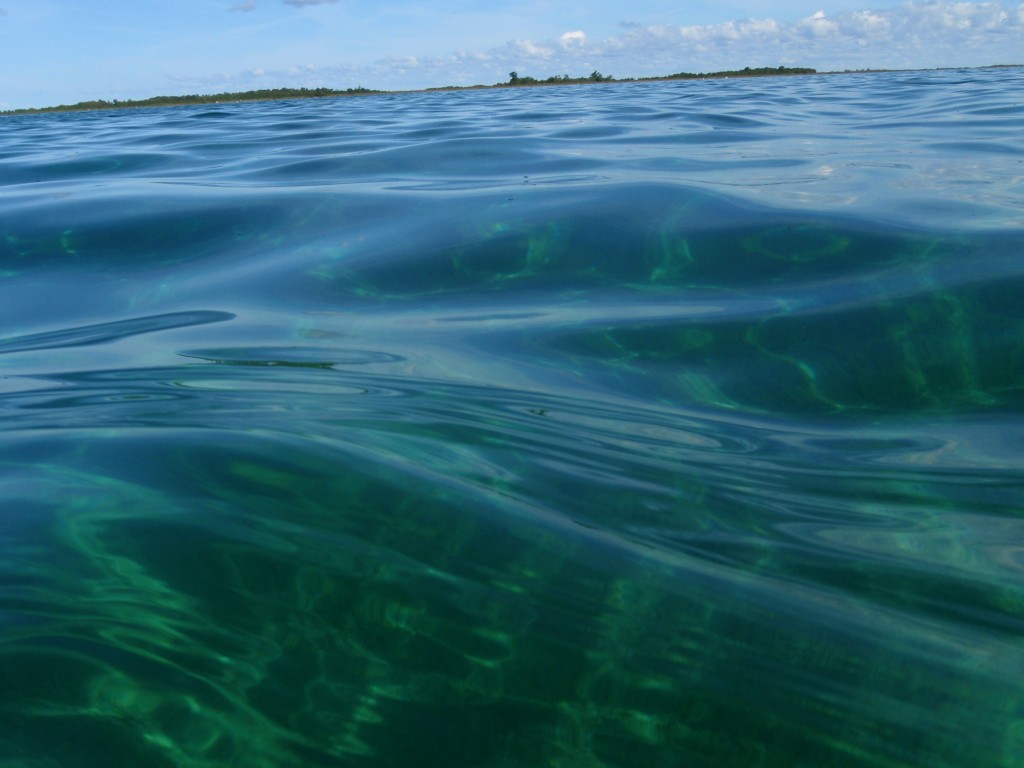 Out past the point, into lake MI, is an incredibly shallow reef that extends about 20 miles out towards Beaver island.  It is cut by a shipping channel, marked by several lighthouses and numerous signal buoys to guide boats through the channel and into the Straits of Mackinac.  If you get to one of the lighthouses, and the weather is clear, it's hard not want to go to the next one, and the next one, each separated by about 5 miles.  Or keep paddling west to the islands…  maybe next year.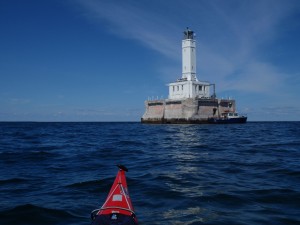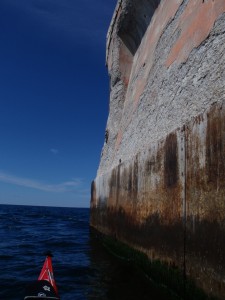 I paddled out to Gray's Reef first, which put me 5 miles offshore, and about 10 miles from the launch.  To the amusement of the maintenance crew, I was able to take a leak by standing one foot on a ladder, and one foot hooked under a deck bungee to keep the boat from blowing away.  Not comfortable, but at least I was able to get out of the boat. 
At Gray's, one just starts to the see low forms of Hog and Hat island on the western horizon, the edge of the 'Beaver Island archipelago'.  Very tempting, but I had to save that for a later date.  To the North, it is a deceiving five miles to White Shoal light, the familiar barber-pole light of MI license plate fame.  I say deceiving because the light looks close, but the curvature of the earth obscures the base of the light house.  After you feel like you have paddled long enough to get there, you just start to see the base, and realize you are only half-way.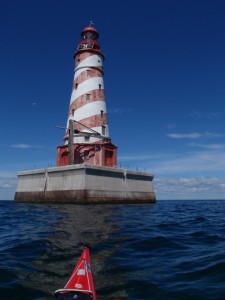 From White Shoal, it is about seven miles back to Waugoshance light.  It's something like 1.5 miles off-shore, and maybe six miles from the closest launch, making a great day trip.
This beautiful, burned-out hulk of a lighthouse was used as target practice during WWII by fighter pilots stationed in Gaylord.  All the interior structure was burned away or has been stolen, leaving the copper 'birdcage' at the top of the tower.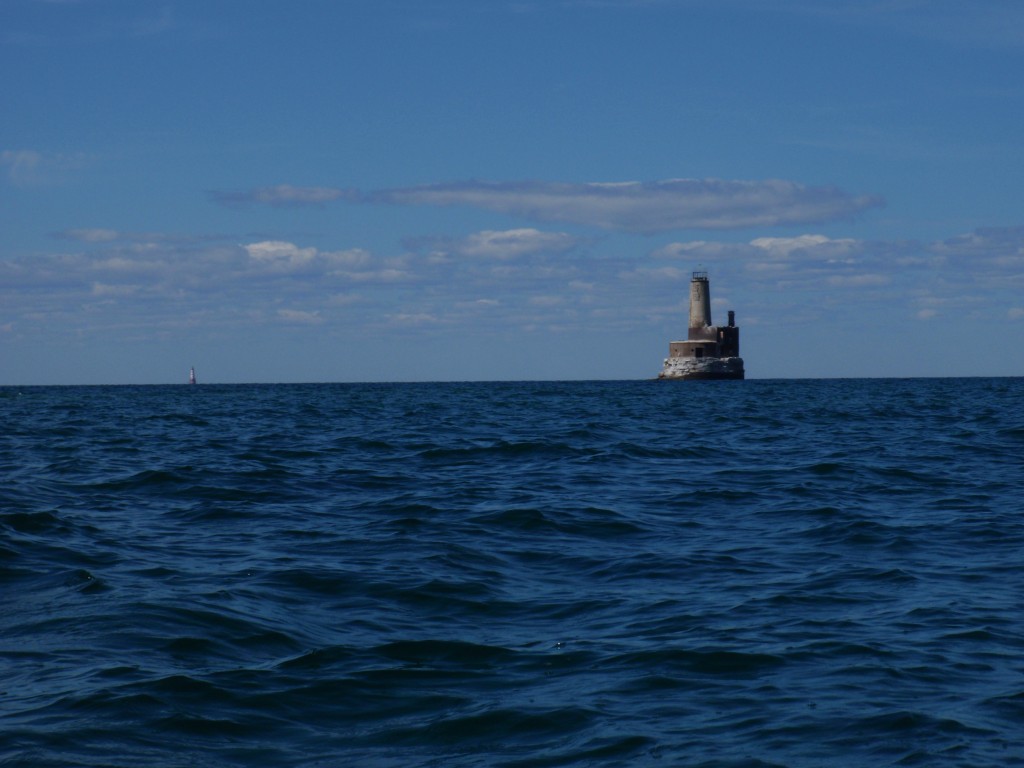 This is really an amazing area.  Except for the shipping channel, the water was never deeper than 30 feet, so I could see the bottom the whole way.   I was also fortunate to get a long weather window with only 20 knot gusts and 2-4 foot waves.  In rougher weather, the water around these lighthouses gets really gnarly.  It would be great to have had a partner, because I spent seven hours in the boat, and was only able to stand up once. 
Long Term Cetus test:
I've spent the whole season in my Cetus LV.  I've seen several reports about how the boat carves, how stable it is, how maneuverable it is, how it rolls like a dream.  This is all true, and I love those things about it.  It is a really fun day-tripping boat, or rough water boat, for a 175 pound guy like me.
I have not heard or seen much reporting about its down-wind or cross-wind performance, which is really important for planning a route through wind and wave conditions.  I'm going to say right now that the Cetus LV is not the perfect downwind boat – but I like it.  I can confidently paddle any direction into wind and waves, but after a few long exposed paddles on lake Michigan, I realized that I was sub-consciously adjusting my route to allow for three distinct directions:  directly down-wind, directly cross-wind, or 45 degrees downwind.  This may have something to do with the typical lake MI conditions:  2-4' swell and 20 knots of wind.  The Cetus is fast, and it can be accelerated nicely to catch these small waves, and stay fast to catch the next one.  This is great for reducing paddling time.  However, on lake Michigan, the smaller waves are typically so close together that the bow is frequently touching the next wave, making it easy for the stern to get pushed around by the wind or waves.  And this reveals that the Cetus LV tail is a little loose; looser than my Sirius, of course, but also looser than my Capella 163.  Directly downwind the Cetus LV is great, and 45 degrees is very comfortable with a little attention and edging.  But in between zero and 45 degrees, the boat can require what feels like an inordinate amount of corrective strokes, which negatively affects speed and is tiring.  So the trade off is 'keeping speed up' vs. 'holding course'.  For me, I quickly hit diminishing returns trying to hold, say, 30 degrees off-wind.  At some point in August, I realized that I was planning my whole downwind routes like sailing legs.  I would paddle cross-wind up to a mile, so that I could then surf a longer 45 degree leg.  I'm convinced that this was faster, less tiring, and more fun in the Cetus LV, than taking the direct route back. 
I love my Cetus LV, but I'm still searching for the perfect boat.  I feel like I have tried all the serious competitors, except the TideRace boats.  Too bad I ran out of time at Savannah Canoe and Kayak.  I think it's time for another trip!