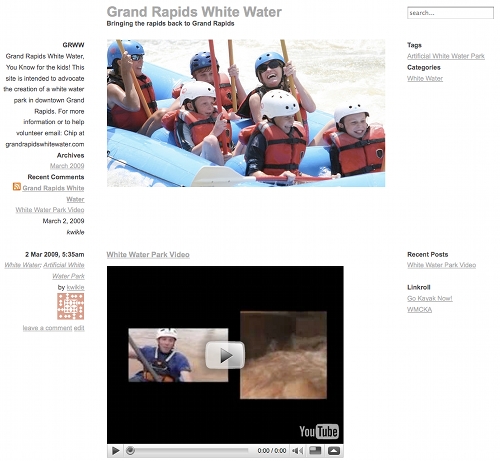 I've been working on a number of projects that have kept me from blogging recently. Grand Rapids White Water.com for instance. This site is intended to communicate about the movement to get a white water park in downtown Grand Rapids. I've been to the white water park in South Bend Indiana. It's great fun, and an excellent introduction to white water in a safe environment. If you are looking to volunteer or want to stay in touch with the movement. Follow the web site, and friend Chip Richards on Facebook! Also please join the Facebook Group for the cause.
I would love to see a white water park change the local paddling community for the better. It could totally change the landscape of people who paddle. Surfing and moving water could be the norm for people my age, rather than the exception. Availability of a decent white water park to learn to handle standing waves, current, rolling, and playboating maneuvers would be the cat's meow.
That's my belief anyway.
In other news:
I got back on the bike today to come to work. It was 10 below but with bright sunshine.
I had this Willie Nelson song in my head:
I never cared for you
The sun is filled with ice and gives no warmth at all
the skies were never blue
the stars are raindrops searching for a place to fall
and I never cared for you
I know you won't believe these thing I tell you
I know you won't believe
your heart has been forewarned all men will lie to you
and your mind cannot conceive
now all depends on what I say to you
and on your doubting me
so I've prepared these statements far from true
to fuel your disbelief
The sun is filled with ice and gives no warmth at all
the sky was never blue
the stars are raindrops searching for a place to fall
and I never cared for you
The sun is filled with ice and gives no warmth at all
the sky was never blue
the stars are raindrops searching for a place to fall
and I never cared for you
I never cared for you