Tiderace's first model was the Xcite. The Xcite is, for lack of a better definition what makes a Tiderace a Tiderace.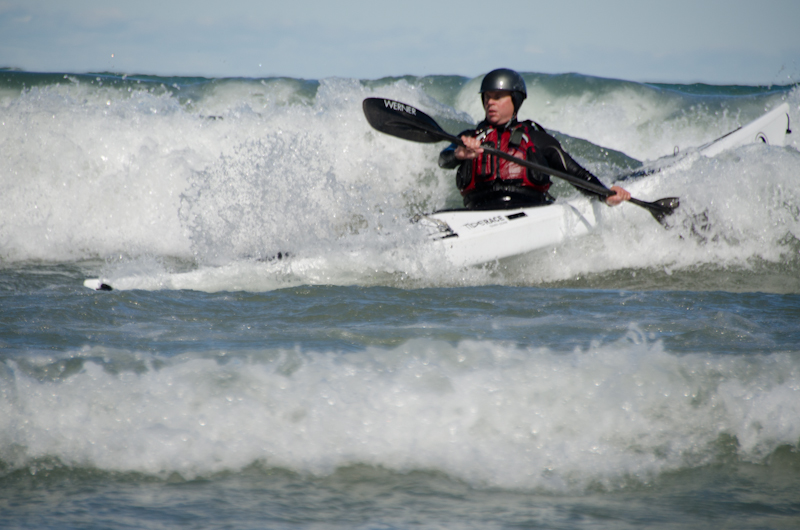 It is a loose, stable, nearly planing hulled sea kayak with a reasonable amount of speed that allows for dynamic edging and carving. It is responsive while still having a fair amount of volume to pack for trips. When I first got in an Xcite, I immediately got it. When put on edge with any amount of hull speed the kayak will swing around easily. But as I found out on my Pukaskwa trip, it will also maintain a line in any wind, provided the skeg is deployed.
Specs:
17'2″ Long
21.25″ Wide
12″ Depth of cockpit at the front part of the cockpit rim
Weight 55lbs in Classic (mine is in Hardcore)
As with all Tiderace Kayaks, the layup and the construction of the kayak are pretty bomber. I used a Hardcore model on my trip, hitting and dragging over rocks for 10 days, and the boat looked none the worse for wear due to it. Cobra composites does a stellar job with the construction with no iffy spots in the deck or hull. While this is not a light kayak, it is a durable one, and it is not needlessly heavy.
The Xcite is not a large kayak, but neither is it small either. This kayak has a significant amount of float which allows you to easily control edging through turbulent water, current, or waves, or both. With smaller kayaks (narrower/shallower) I have begun to find that edging across eddylines, with wind or waves against current that the increased volume makes the whole maneuver easier. And that any advantages from less windage and more hull speed, are overtaken by the ability to let the kayak do the work. So in essence, more boat is actually less work, as long as it is designed well. When setting the kayak on edge on the lip of a wave, or breaking in and out of current this is especially true. I really enjoy how the kayak handles lumpy water, and water with current.
I paddled the Xcite on my Pukaskwa Expedition this summer. After 10 days in a variety of challenging conditions, 20-30 knots of winds in basically every direction I was pleasantly surprised by how well it performed in a variety of conditions when loaded. We had one 26 mile day with a 25 knot tail wind that was one of the best days I've ever had on the water. I have always had larger, more oval hatches, with very lightweight backpacking gear, I found the boat a joy to pack, and bone dry. 303 is a must to keep the hatches lubricated for on/off, but otherwise no hassle.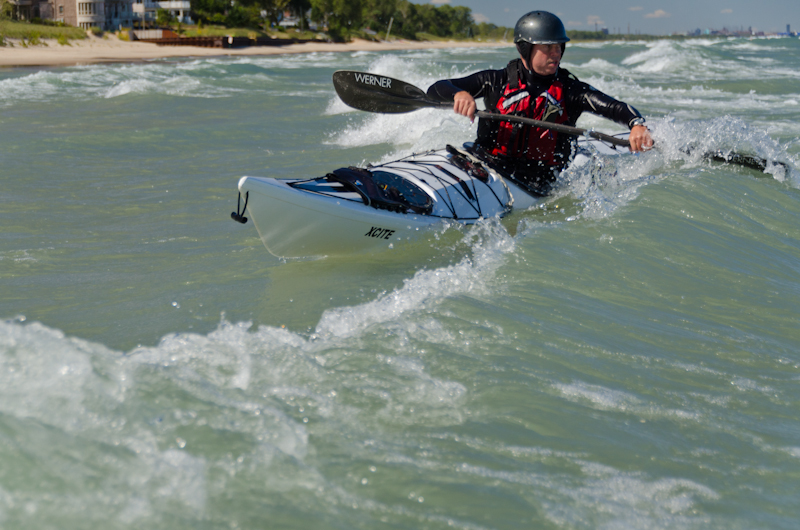 I am adding an Xcite after paddling the Xplore_S for over a year, and may eventually paddle the Xcite exclusively.
The Tiderace Xcite is available through New York Kayak Company and its dealers. AVG list price is around $4000