This is a guest post from Alec and Sharon Bloyd-Peshkin of Have Kayaks Will Travel My thanks to them for posting this article here on Go Kayak Now. Editor: Keith Wikle
"Let's be careful," Leon Somme said as he left for the beach. "It's getting dark and we've been out all day." We had finished a full day of coaching at The Gales, and the tide race next to the Rock Island Lodge was rocking. "We'll be back in 20 minutes," Alec shouted over his shoulder.
Keith Wikle set off in his surf kayak; Leon and Alec Bloyd-Peshkin followed in their sea kayaks, riding the current from the Michipicoten River into the surf. Shawna and Sharon, having already taken hot showers, stood with cameras on the rocks above the race.
On Keith's first ride, a breaking wave tumbled his boat and imploded his spray deck. With a boat full of water, he paddled to the sand spit, but when we got out near the dumping beach, he was pulled into the current.
Leon and Alec paddled over to help. With exposed hands in cold water and air, Keith was at first unable to keep his grip on Leon's deck lines, Alec's end toggle or his own boat.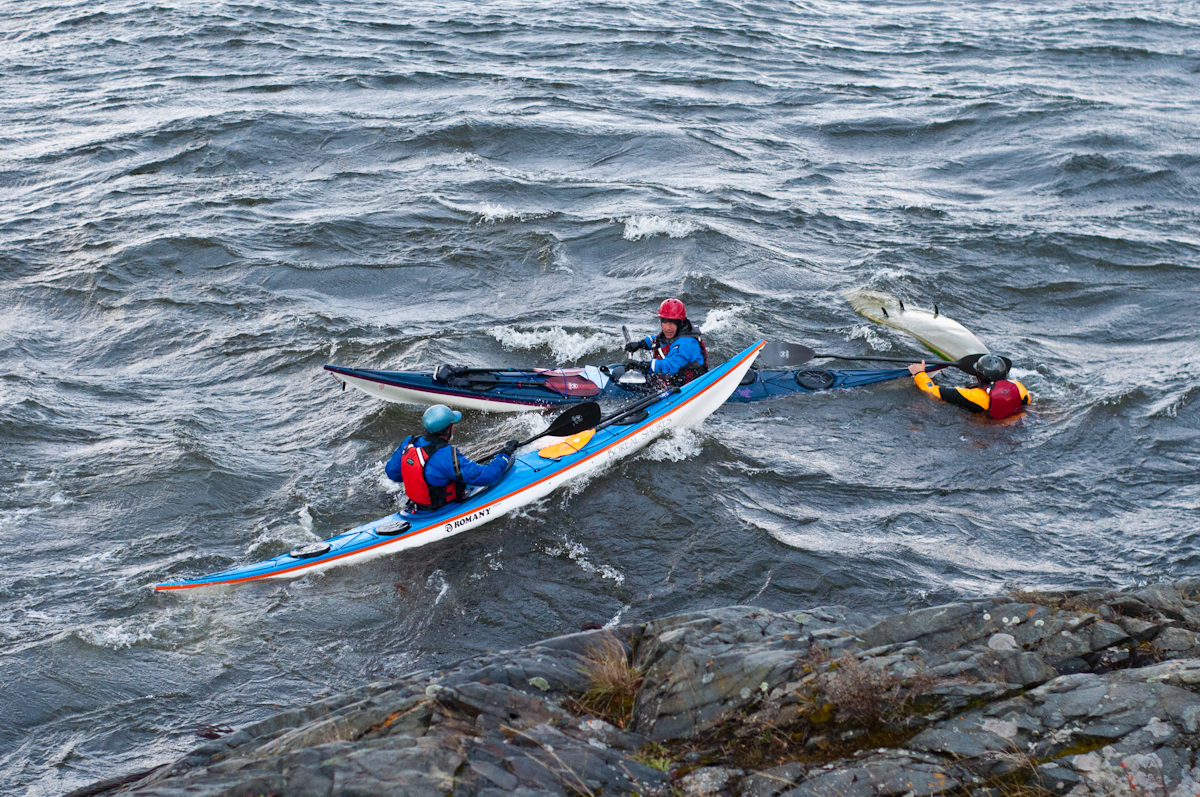 The surf capsized Alec twice; be rolled up just as Keith established a solid grip on Leon's end toggle.
Leon made slow progress toggle-towing a swimmer and a swamped boat against current. Alec clipped in to Leon's deck lines for an in-line tow, and the three made for the eddy behind the sand spit.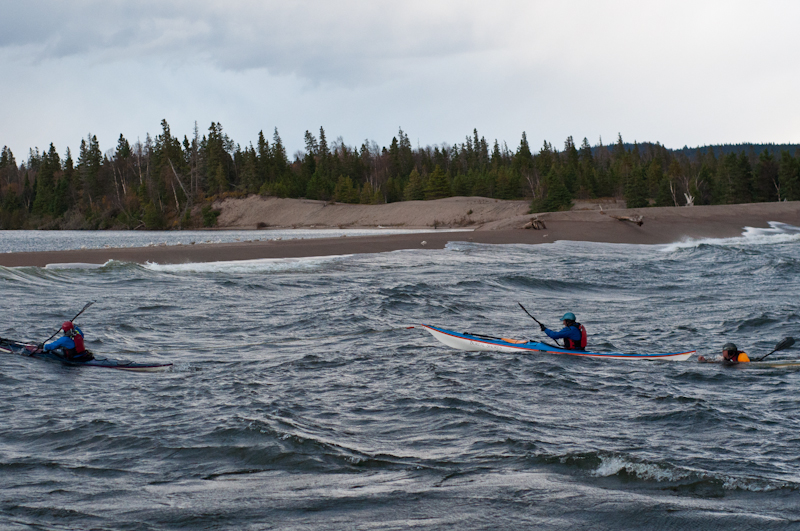 Part of the way there, Alec felt his tow belt loosening. Soon it came off and dangled from Leon's front deck lines. The three made it into the eddy, where they were able to deposit Keith on the sand spit, empty the boat, and remove and stow the tow belt. It had been only about 20 minutes since they left for the beach, but it felt like a lot more.
We decided to write about this incident because it reminded us of the need to practice rescues in all the varied conditions we paddle in so that when they occur, they aren't as stressful. Stress leads to tunnel vision and mistakes, and makes the already complicated process of coordinating a rescue that much more difficult. Equipment malfunctions are often caused by small oversights, such as failing to check that a buckle is fully closed (as happened to Alec). Through practice we can work out the kinks, find what works best (and what doesn't) and learn how to effectively coordinate with others. When the conditions become dynamic and the consequences to a failed rescue are real, it is helpful to be able to draw upon the experience gained from controlled practice. As coaches, we focus on making our strokes "demonstration quality" and performing them in all conditions with grace and style. We think the same should be true of all we do on the water, including our towing and rescues.
So many things went well in this scenario. Three paddlers were together and looking out for each other. Communication was good in spite of the noise caused by the wind and waves. Everyone had the boat handling skills necessary to accomplish a rescue. And yet, some things went wrong. Looking back, we're convinced that regular rescue practice, including practice in dynamic conditions — the kinds of situations when nobody really wants to practice rescues — makes real rescues like this far less stressful and, ultimately, more successful. –Sharon & Alec Bloyd-Peshkin