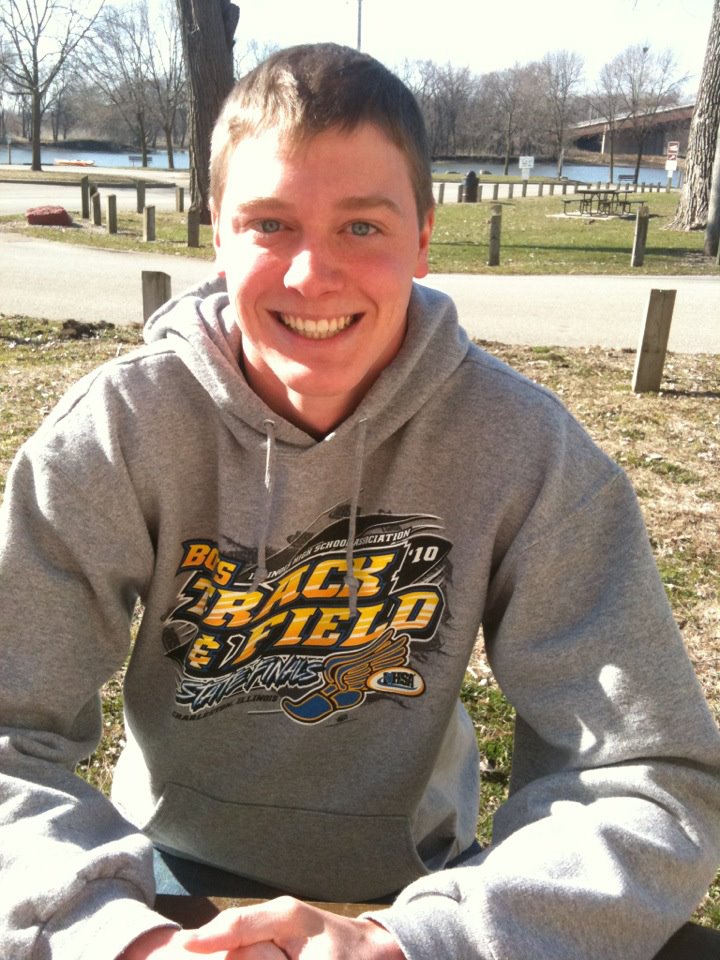 The search for Mitch Fajman has been called off. He went into the water around three (we think) on Saturday. The Coast Guard and other rescue services made every attempt to find the 18 year old who paddled out with two other young men. The weather which looked dicey even on land, 40 knot winds broke power lines and downed trees in Kalamazoo; caused all hell to break loose over Lake Michigan. 40 knot gales with 14 foot waves reported at off shore buoys.
The media has had several different facts reported by the following news services. Woods TV, The Chicago Tribune, and Mlive. Even though these somewhat luminary news services reported on the event, the facts are still somewhat less than clear.
When tragedies such as Mitch's occur regarding kayaks many important facts are never reported, and further are somewhat obfuscated by the mainstream media. The timeline of events is unclear as is the occurence of several key events during the incident. For paddlers and for the family I wanted to make sure that these facts were communicated as I understand them.
This is important to me because I made the decision to stay on land on Saturday based on the forecast, and three young men whom I am now somewhat certain did not possess the skills to venture out near open water did. I was going to drive to New Buffalo to surf on the south side of the pier in my surf kayak, but decided that 40 knot onshore winds and 14 foot waves was a recipe for high calorie expenditure, with limited surfing reward.
The events as I understood them with the detail from an unnamed source and some second hand from Mitch's mother.
Mitch was going to a family reunion at some point on Saturday, but told his mother he was going to go paddling with his paddling club. The two young men he went paddling with were not from his paddling club and it is not clear how much paddling experience these two men possessed. It is reported that each member of the group wore a wetsuit, helmet and lifejacket. Though it is likely he owned a lifejacket, but it is not certain whether or not he owned a properly fitted lifejacket. It was never reported whether any of the men were wearing a spray deck, or if it was fitted to the kayak. He phoned his mother at some point prior to launch to say he was fine and that he had a knife and a rope. A source noted He did not have an eskimo roll. She had taught (updated) a t-rescue to Mitch, but had not seen him perform one, let alone perform one in the conditions or the environment where he would have found himself.
They launched on the river in New Buffalo and paddled towards Lake Michigan.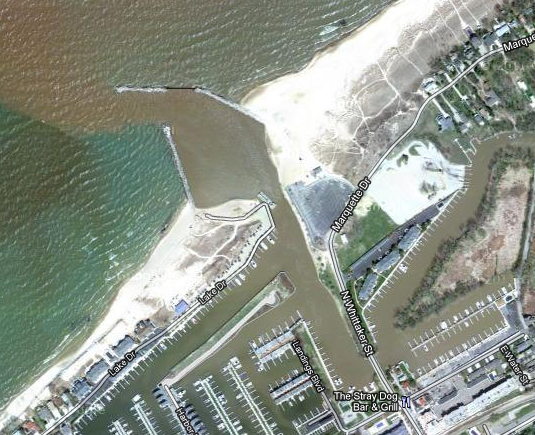 The way that the arms of the breakwall are formed, waves would have been visible and sizable from the entrance of the channel. Large broken waves coming over the breakwall would have thrown spray in every direction. And it would have been windy as hell. Unbroken swell as large as 6-7 feet would have been washing up the river mouth.
At some point inside the channel, I am quite sure all three boys made some sort of decision to turn around and head back. Looking into the maw of 14 foot waves from a kayak is very intimidating, let alone the howl of 40 knot gales. How close they came to open water I am not sure. Mlive states that the boys were inside the breakwall when they capsized. The boys most likely capsized when they went to turn around in the swell to head back into the river mouth. When this occurred I am not sure. How long were they in the water before 911 was called. Berrien County Deputies and Firefighters rescued two of the boys from the breakwall using rescue lines and the throw ring, that I believe is located on either the south arm, or the north arm of the pier.
The timeline is very muddy. Mlive states that the Coastguard was called at 3:00 PM, and that Fajman was last seen at 5:09 when he slipped under the water and out of his lifejacket. Mlive also reports that no boat was equipped to get near him. That would mean he was in the water for over two hours with people throwing lines at him, most likely with less than effective results. In these conditions, a toggle extraction, or a swimmer tow would have gotten him further up the river mouth, but no other craft would have been able to get out there safely.
Out of all of this information, nothing is as clear as it should be. These questions are not to put the efforts of the Deputies and the Fireman into question, nor the Coast Guard, but merely for us paddlers to be able to better understand how to survive incidents such as these, and to better judge when to stay on shore.
Where did Fajman and his fellow paddlers actually capsize and end up in the water?
When did Fajman enter the water?
When were rescuers on the scene?
What techniques did the rescuers use to try and extract the paddlers?
Why were they unable to reach Fajman?
What sort of lifejacket were the men wearing? If the one that Fajman was ill-fitted, and he slipped out of it, was he wearing his own gear? Was it even a paddlesports Lifejacket? An ill-fitting lifejacket is pretty dangerous.
Did the boys even attempt to a t-rescue?
Why was Fajman harder to reach than the other men? What happened? Were they just separated by wind and waves?
What sort of boats were they paddling? Could they be fitted with a spraydeck? Did they have bulkheads?
For those that choose to paddle in storms, I have to say. Know your limits, and listen to a healthy dose of fear. A group risk assessment would have quickly revealed that these three men (boys really) should never have even left shore that day. I don't think anyone would ever accuse me of cowardice, I was afraid that day, I knew in my gut it was death on a stick out there, so I stayed home. Now I am left wondering if I could have rescued a swimmer.
A kayak in the hands of a good paddler is far more seaworthy than a small motorboat, I can say that I probably could have towed a swimmer a quarter mile up the mouth of a river. So sad. My condolences to the family.
I would love to see a bit more effort from the media to explain the poor timeline of events, and the lack of important details surrounding this story. If you can't even get basic facts straight, the story is just going to cause more confusion. Where, When, Why, How. None of these questions was really answered with any clarity.