It may seem like there are many great kayak paddle choices available. There are actually fewer high quality choices than you might think. Most new paddlers spend a ton of time on their kayak choice, but very little time looking at paddles. Due to the rarity of high quality manufacturers, or small fabrication shops turning out great paddles. I wanted to focus some attention on the relatively newer players to the paddle market.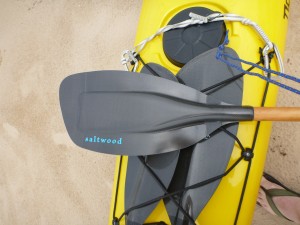 Saltwood Paddles are based in both Portland and Savannah Georgia. Though the moniker above says it all, handcrafted in the Pacific Northwest. The company was founded from a wood boat (strip-built) building background in the late 1990s, and grew into a paddle making business over the last decade. Richard and Mike started seriously making paddles from early prototypes in 2010 and retailers started picking them up in 2011.
The clear product differentiation for Saltwood is the wood shaft with composite blades. Other manufacturers have used composite paddles of wood and carbon fiber to differing levels of success in the past. Saltwood immediately sticks out due to the beautiful hollow-core wood shafts and carbon composite blades. The other rare feature is that Saltwood offers a bent shaft option for their paddles.
They have four models, three of which are kayak specific:
Review Paddles
We reviewed two different sized Reggie paddles. One straight shaft of 200cm length, and a 210cm bent shaft Reggie. Both paddles were sent with a 30 degree right hand feather. Because the blades were identical I am going to review the shaft differences first. All Saltwood paddles are one piece paddles.
The Straight Shaft 200cm Reggie
I'll admit it, I am not overly fond of straight shaft paddles. I find the indexing while upside down unreliable and too quirky. I know it is a preference thing and that you eventually develop technique for getting the blade oriented to the surface while upside down. My observation has been that bent shafts eliminate this issue. You can feel, based on the bend in the shaft, where your wrists are relative to the paddle blade and the surface of the water.
Imagine my surprise at using the 200cm Reggie. The paddles use aggressive indexing on both sides of the shaft. This creates an immediate connectivity with the shaft, where you can intuit the blade's orientation to the water relative to your wrist position. While it sounds simple, it is not common in paddles to have a shaped loom with indexing on a straight shaft. Due to the shorter length of this paddle, and the feel of the loom, I found myself using this paddle more often than the bent shaft I was so keen on demoing.
I used the straight shaft in a variety of conditions ranging from dead flat to 5 foot surf on Lake Michigan. While performing rudders, draws, and edged sweeps the paddle felt like a connection of my arms. When I did capsize from surfing in, I had no difficulty with slippage on the shaft due to the indexing. The straight shaft was naturally also slightly lighter than the bent shaft. The construction was stout and pretty bomber, as this seems to be the clear intent of a single piece paddle. I used it for some paddle presentation rescue practice, and noticed only a bit of flex.
The Bent Shaft 210 cm Reggie
The bent shaft paddle was a joy to paddle with. the cranks were quite neutral and allowed for a variety of hand positions without losing mechanical advantage. The shaft felt solid and comfortable in the hands with immediate indexing. When paddling forward your wrist was in a neutral position and didn't provide any creaky joints or problems. I like having my knuckles line up with the spine of the blade when in a crank shaft. The weight of the paddle was slightly heavier than the straight shaft. But not overly so. When comparing against other crank shafts the hand position and loom shape were favorable. But as stated above, I was pleasantly surprised by the indexing and comfort of the straight shaft paddle.
The Reggie Blade
The blade face is spoon shaped and flat with no dihedral. The blade is asymmetrical and has a pronounced tip. The back of the blade does have a fairly wide spine in it that is filled with a balsa core for float and strength. I quite liked how the blade felt in the water. It blended strokes nicely and never fluttered or spilled water awkwardly. The size at 677 sq cm, is less than a Werner Ikelos for example. I never felt any difference at that decrease in blade size or declared it under-powered. The blade had plenty of grab and I accelerated easily through surf and downwave when needed.
Weight
The Saltwood paddles are not the whispy 29 ounce paddle you are probably thinking of, they are stout one piece rough water sea and surf blades. Their weight is more akin to a single piece white water blade than a complete carbon fiber touring or race paddle. Average weight is 32 ounces.
Cost
$350.00 Retail for straight shaft/$400.00 for bent shaft.
Summary
These paddles are bomber performance paddles. I would love to see more of them on the water. I was truly sad to send them on their way down to Nigel Law in Savannah for his demo fleet. I would love to try the double-happiness as my primary surf paddle. Check out the image below.
Saltwood has a couple of innovative products for late release in 2012. According to mike they have two new touring blades in the works, one close to the Reggie, and a longer narrower blade.
They are also releasing a slightly narrower shaft circumference. Though Mike hesitated to call it a "small" shaft as it is pretty close to the size of most manufacturers regular size shaft. You can start ordering these now. The east coast dealer is Savannah Canoe and Kayak.