Managing Inexperienced Paddlers on the Water
In 2006 I led a Sea Kayaking trip in the Apostle Islands on Lake Superior. To say that I led the trip is a stretch. I will say it was a great experience to learn how to lead a trip.

View Larger Map
Myself and Jim Svensson took two more inexperienced paddlers to paddle through the islands in July of 2005. I won't give a blow by blow of the account. But I will offer some advice for other sea kayakers who are thinking of taking less experienced paddlers on a trip.
Jim Svensson and I are both BCU 4 Star Paddlers with thousands of miles under our hulls. We have done many trips together on Lake Superior, we have both paddled Pukaskwa National Park in Canada, we also did the Silver Islet to Rossport trip together. I have many many hours surf kayaking on Lake Michigan and even a couple of trips to the Pacific to surf. I've done a lot of the islands on Lake Michigan and Huron. However each of these trips was done with paddlers of at least equal paddling skill, if not higher than our own skill level. This was our first trip with beginners.
I want to start with some things about the trip to give an idea of the plan, because believe it or not I did have a plan.
We wanted to do a loop from Sand Beach back to Bayfield. We had an outfitter drop us off at Sand Beach and we would paddle back to Bayfield. We wanted to hit Sand Island with all of the caves and cliffs, and especially Devil's Island, we also wanted to circle out and see Outer Island. Maybe even circumnavigate Outer before heading back.
Planning and Preparation for the Sea Kayaking Trip
In the early part of the spring, I paddled with the two more inexperienced paddlers (a married couple) many times. Though one of them had a lot of obligations and was not able to do the training trips as often as what would be necessary.
I made a point of taking them out and doing rescues. We performed t-rescues, eskimo rescues, all-in rescues, and even a hand of god or two for fun. I wanted to get them comfortable with the idea that maybe not everything would go as planned. Also I wanted them to not freak out if someone swam, which I was predicting might happen if there were any clapotis waves near cliffs or caves. I also worked with one of them on developing a roll, directional strokes and some surfing.
I also took one of them out to Ludington to the WMCKA spring gathering. We paddled into 25 knot winds on Sunday afternoon and then surfed back to shore. Great fun, but also an eye opener in watching how little progress our duckling made.
They key thing is that one of our paddlers was really taking the trip quite seriously, and the other did not prepare.
The couple did however take my warnings about cold water, and possible cold weather seriously and bought a ton of gear before the trip. One bought a Goretex Meridian Drysuit, the other bought a really nice IR Drytop and a farmer jane wet suit. I felt that they were at least prepared from an equipment standpoint.
As the days wound down to the trip, our other paddler still engaged in work duties had not been out to paddle very much. I made a conscientious effort to talk with her about the challenges of the trip and to make sure she understood them.
This is really where I failed her. She could not understand the challenges of the trip, because she had no frame of reference for how strong the wind might be, how big the waves would be, or how unrelenting Lake Superior could be. I wanted everyone to have a good trip, so I allowed her to go. When really I should have just been a good friend and told her we would modify the trip plan to be less ambitious, or that she could not go.
I asked Doug Van Doren about leadership on the water. His take is that the strongest paddler will often naturally end up leading the other paddlers through an emergency, whether or not this person is designated as the leader or not.
With that in mind, I was committed whether I knew it or not.
Crossings into the Wind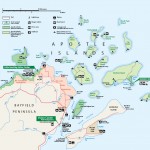 Our troubles really began on the leg between Devil's Island and South Twin. There is a long leg far from shore where there is no protection. One also has to go around Rock Island. The weather for most of the day around Devil's Island had been ideal. It was very calm with no huge waves. I snaked my foster silhouette into every cave I could fit into. Once finished we ended up on the south east corner of the island looking at the crossing. The wind was getting up and we had to make a break for it.
Part of the problem with the Apostles is the designated campsites. Every paddling group must designate which campsite they will be staying at on what night. Under ideal conditions this is fine, but it unfortunately influences decisions with some of the more OCD folks. I am more of a free spirit in this regard. I feel that as long as it's safe, and that I am low impact I am willing to bend a few rules. But others tend to take this quite literally to the point of jeopardizing safety, which I am OCD about. In this instance I should have been more vocal about making sure we were safe, rather than jeopardizing the groups safety in a crossing that one of us wasn't read for.
About thirty minutes into the crossing the wind picked up to about 15 knots. To Jim and I this was a good thing, we despise flat conditions and would rather have a little texture to remind us of why we drove 14 hours to paddle. To our inexperienced paddlers it was an insurmountable obstacle. Our least prepared paddler began to waver, then fade, and finally to become unstable. I remember looking at the conditions and seeing how slowly she was moving, and I had clipped my tow carabiner to my life jacket prior to starting the crossing.
Jim and I began using the GPS as a gauge of how slowly we were going we started at three miles per hour, then two, then one.
I saw the first accidental dip of a vertical paddle and a quick low brace to recover. After she almost went into the drink, I made an instantaneous decision to tow her without asking her. I glided up to her bow and told her, "We're going to do a little towing to get around the tip of Rock Island." She looked almost relieved.
I began to haul ass for the northern tip of Rock Island right away. Pretty soon we were halfway, then three quarters of the way, and then Jim thankfully offered to take over for a bit. Our other inexperienced paddler seemed to be struggling, but making progress. Jim also really hauled it and pretty soon, we were discussing linked towing. So I clipped in on the lead to Jim's Explorer's bow and began to lead again. Once we did this we were really making good progress. Ironically once I had made it to the tip of Rock Island I had to pee like you wouldn't believe. I can still remember two years later how bad I had to go. We were now with the wind, but I unclipped to pee on Rock Island. Jim led the tow the remaining half mile to South Twin.
In that 30 seconds I believe we corrected a very bad situation. The wind continued to grow the sky grew gray and the wind built eventually to about 25 knots. So quick and decisive decisions on the water tend to make for better feelings off the water, rather than worrying about someone's feelings. I remember that look on her face when I clipped in to this day. Her face just said, "I surrender". Also I can remember that feeling of relief for my own part as Rock Island quickly came into view. I got some serious satisfaction while I was towing to hear Jim report our speed from his deck GPS. I could barely hear him through the increasing howl in the wind, "3 miles per hour, four, four point five".
We tried to quickly cover the distance before the weather built ahead of us. We might have had to consider turning and going with the wind, back to Devil's Island. A quartering sea and that small slip on the south end would have been hard to hit dead on with the wind. The consequences for missing would have been catastrophic, because there is no land fall between Devil's Island and Minnesota.
Lesson's Learned from Tow #1
Quick Decision to tow based on decreasing speed and stability of the weaker paddler was a good decision.
Linked towing exerted far less energy than towing solo.
A Camelback full of gatorade does hydrate a paddler very well, but also makes them have to pee every 20 minutes.
Tow #2 From Cat Island to Outer Island
The next day we wound down around Ironwood Island and the southern tip of Cat Island for lunch.
The wind had begun to build again as we ate lunch. It was however a beautiful bright skied day. We started to head out to Outer Island with the intent of maybe seeing the light house on the north end.
Again I should stress that trip plans should have been changed by me to perhaps camp where we were, or to run with the wind until we were in the lee of the islands and then camp somewhere else. With the wind already beginning to make some beautiful blue green waves and foamy whitecaps, it would be tough going for our less experienced paddlers, but a fun day playing in the wind for Jim and myself.
However the first day turned out fine even with the towing, so I made a decision to go for it. We quickly ran into problems as the wind out of the north east was beginning to really build some nice swells. This made things very difficult for our least experienced paddler. She quickly slowed to around one mile an hour. She also became unsteady. I then quickly made another decision to clip in and tow her. Jim then clipped in and led the tow for about twenty minutes. It was tough going. We swapped spots on the lead twice. Finally the wind had begun to howl around the southern tip of Outer Island, which is a sand spit. It offered no protection. We knew the camp site was on the other side. So we struggled valiantly around the tip of the island for at least another twenty minutes.
I remember the white caps really beginning to pile over the deck of my kayak, digging my carbon fiber superior Greenland paddle into the water and torquing my torso with every once of strength I possessed. I don't know how much strength I had left, but I remember thinking, wow! I really wish I could turn and sprint to catch that wave. (I think it is really I kind of mental illness to be thinking of surfing under those circumstances).
We were defeated as we rounded the sand spit. We started to wash onto the beach. Which was steep and cobbled. We began having the time honored catastrophic problem of using ropes in dangerous situations. The stronger paddler was being out paced by a side surfing sea kayak victim. I watched our weaker paddler side surf into the beach under tow, and Jim and I frantically trying to make a decision on what evil thing to do next. Either un-clip and let her go, or try to pull her back out to sea. I made the decision for myself. I quickly released my tow from the victim, as Jim was in the lead, but Jim did not. This led to some tangles and serious crashing on the beach with our two boats lined together. It was an ugly landing. Jim and I managed to bring the kayaks up the beach above the water line.
Tow #2 Lessons Learned
Linked towing when a landing is imminent has its limitations.
Communication between the two towing paddlers is crucial
Ropes and surf landings are always problematic.
In retrospect once we had rounded the tip of the island we should have dropped to a single tow so that one paddler could make a quick decision about when to drop the tow and just wait to pick up the pieces from the landing.
We managed to get everyone on dry land on Outer Island safely. So there were some good things about the day.
The next day we did an evaluation of the weather. It looked like the next day would have a twenty knot wind from the north east. And then would start to veer to due east. With all of the islands we had left to do, and the prospect of possibly more towing. We decided to make a break for it and run with the wind to get as close to Bayfield as we could with the twenty knot tail wind.
As I remember the outside of Stockton Island was quite beautiful. There were many sea stacks. As it turned out with the tail wind at 20 knots all day, we covered 21 miles in relatively short order. We decided to run all the way in to Bayfield that night. We had finally altered the trip to meet the group which was probably the best thing we did from a leadership perspective. Our two inexperienced paddlers were pretty toasted. But very happy to be on dry land.
I've included some of the gory details but not all. I think the main lessons to be learned from all of this is the following:
Know the limitations of the paddling group and adjust the trip accordingly
Be flexible and prepared to change the trip midstream to meet the needs of the weakest member
Be prepared to tell someone they can't come if the trip is not flexible.
Be prepared to tow if the group begins to slow when performing an open crossing
Watch the weather and know what the back-out plans were
Be ready to make decisions quickly and to worry about hurt feelings later
Thankfully there have been no hurt feelings from this trip. But I still have some very serious nagging guilt for not being prepared to adjust course or say no when the trip preparation and training didn't come together as I would've liked. In truth if our other inexperienced paddler had swum, needed a tow, or gotten sea sick, we could have been really hosed.
As with just about everything I do, I think there is a certain element of risk involved. The benefits certainly outweighed the risks for this trip. I wouldn't advise someone not to do a trip based purely out of fear of the unknown. But having had a lot of practice in wind and waves, my BCU training, and being physically fit shape that perspective. I would really encourage folks with only one or two of these elements to seek out the training, and also to head out to play in conditions as much as they can within a margin of safety.