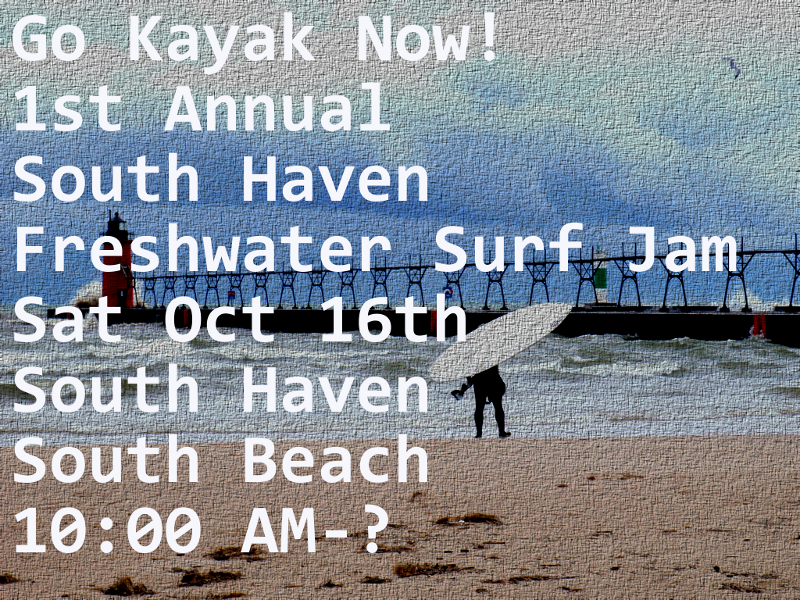 Go Kayak Now is hosting the first annual South Haven Freshwater Surf Jam.
All Paddlecraft and non-motorized craft are welcome:
Surf Kayak
Sit on top
Sea Kayak
White Water Kayak
Stand Up Paddle Board
Surf Board
Kiteboard
Windsurfer
Where:South Haven Michigan, South Beach
When:Oct 16th Saturday 10:00 AM Rain or Shine
How Much:Free!
Why:We all love Surfing!
What to bring?Drysuit, Wetsuit, Helmet if you got it, Camera, Dry clothes, flask of warm drink, or single malt scotch whiskey/small batch bourbon if you like me.
What to consider? Strong winds, strong current, big waves, no lifeguards, or safety patrol, everyone will be free surfing. And alas, no waves.
Forecast:Watch the weather ahead of time and determine if the waves will be worth the drive. I am looking for winds in the25-30 knot range with 5-8 foot waves. Hoping anyway:). This is the marine Forecast to watch .
After party: Thirsty Perch, South Haven.