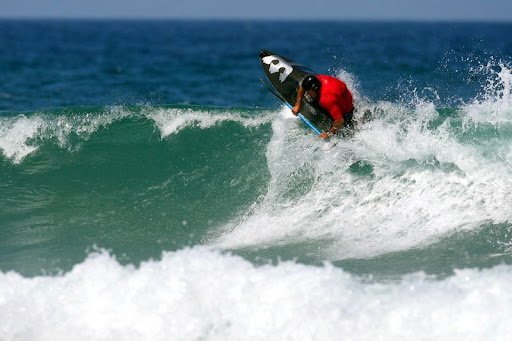 Photo courtesy of Surf Kayak Portugal and Tim Harvey!
The Surf Kayak World Championships have been running for a week now. Narrowing down competitors to the quarterfinals that took place early this morning. The sets have been uneven and challenging according to Spencer Cooke. He even said there were tons of dumpy waves that caused imploded spray skirts and subsequent swims. Now I don't feel too bad about myself. However as things rolled along over the week the waves got better as you can tell from the photo above.
Just for the record having two competitions in a place called Santa Cruz does not help your search visibility. So to clarify lest anyone be confused. There is an annual surf competition in Santa Cruz California. And this is the World Championship event that is not always held in the same place. But this year it is held in Santa Cruz Portugal, outside of Lisbon. And to make things worse, I think there is a Santa Cruz on the island of Madeira. So if I can help with SEO on the next World Championship by selecting a location that is not called Santa Cruz; I would gladly help choose and plan the next surf competition in exchange for free airfare to the location.
The Surf Kayak World's have been running for a week. I have yet to see a single scrap of video footage from youtube. However Luis has kindly updated all of us from his Portuguese site Kayaksurf.net .
It appears from the flickr feed this is who is left in the Men's Quarterfinal heat:
Sadly both Spencer Cooke and Joey Hall of effortinc.tv were eliminated earlier this week in both the HP and the IC classes.
You can also check out Spencer's blog Drug Free Lifestyle .
It seems from kayaksurf.net that Great Britain's team is leading the charge in points. Chris Harvey looked like he was leading the fray.
I wish Chris Good luck, and I hope I can get some footage to share here soon.
Today's updated World Surf Kayak Competition results can be found at this link.