posted by John Fleming
Last week I took a kayak trip, I mean family vacation, to Tybee Island, Georgia.  Tybee is home to the infamous Triangle and monstrous sharks, but will soon be better known as the location of the new Miley Cyrus movie.  Yehaw!
To combat inertia setting in, we jump-started the trip by immediately taking a family tour with Sea Kayak Georgia.  Yeah, they stuck us in three sit on tops, but it was a great way to start off the trip with a little local knowledge.  We paddled the short distance over to uninhabited Little Tybee Island and up into the salt marsh, prime habitat for oysters, osprey, hermit crabs, and bull sharks.  Our guide, John, paddled most of the trip out in front of us, backwards, explaining the local flora and fauna.  This was a classy way to work on his own skills while leading around a group of gumbies.  The kids loved the extended beach time (it is a short paddle over to the island).
Even though this was ostensibly a family trip, I was able to squeeze in two excellent surf lessons with Nigel Law of Savannah Canoe and Kayak.  Conditions were pretty mild the whole week.  The surf at high tide was only 3' on-shore wind blown chop, much like a moderate day on Lake MI, except salty, and much much warmer.   Mediocre for Tybee, but still good enough to get several good pointers from Nigel that I can use for a long time.  Nigel's first advice was that surf kayaks should almost always be flat.  Except on bodacious bottom turns.  I'm a bit of a novice surfer, and I still tend to get stuck on one edge or the other, which kills take off speed.  Second, planing hull speed is key, so when catching a wave, watch the bow wake and adjust trim fore/aft.  Three, LOOK WHERE YOU WANT TO GO.  Point your head at it, turn your shoulders towards it, THEN the boat.  Four, your best defense is that your boat is fast enough to out run any wave.  The last one will obviously be more helpful as I consistently CATCH the wave.  To cap the day off, I proved Nigel's third rule by inadvertently pulling off my first paddle-out take off.  Of course, "I meant to do that."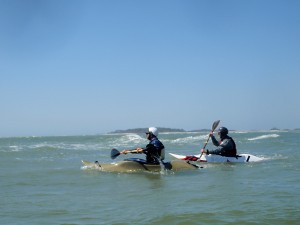 On the second day the surf was a bit more reliable.  I spent most of this session falling in love with the Boost, the gorgeous new surf boat from Mega Surf Kayaks.   Actually, I fell in love with this carbon kevlar beauty the moment I lifted it from the ground.  As I have been paddling a plastic boat, I can't make a comparison with other fiberglass boats.  But even a newbie benefitted from the massive improvement in speed, maneuverability, leg position and overall lightness.  Fast, fast, fast – a real sportscar.  It would look great on top of my minivan.  And I got to paddle the Boost a few days later in Hilton Head, SC.  With an off-shore wind, and steep, smooth little waves, the boat only got better.  Using Nigel's advice to lean back and pull up with my knees, I was able to catch and ride small shore-breaking waves that would have instantly pitch poled my other boat.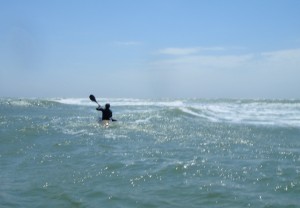 I also got in an early morning sea kayak paddle, by jogging the Cetus LV over to the beach using the C-tug cart.  Before the trip, as soon as I realized that I could get another paddling day on the ocean if I got a kayak cart, I fed-exed one of these babies to my house.  It's an excellent piece of gear:  simple and light.  I was able to load my boat with all my crap, run a few minutes to the beach, and then stuff the C-tug into my back hatch.  Too bad I had to run back to the house to the gear I forgot, and run back.  On this fine morning, the fearsome Tybee Triangle sandbar was not living up to its reputation, so I opted to instead paddle down the length of the island with several pods of dolphins.   This more than made up for the lack of clarity of the water, which is not great.  The dolphins wouldn't get closer than about ten feet, but they put on quite a show, occasionally working in groups of three or four to corral fish, which would then jump out of the water, trying to escape.   
By the return trip, it was blowing 15-20 knots, with a small swell.  The Cetus LV easily surfed small swells, which to me is a useful measure of boat speed.  Compared to my old Sirius, the Cetus LV is slightly faster and much more nimble.  On the downside, the Cetus' stern was blown around a bit by rear-quartering wind.  Keeping this boat within the 'broaching window' requires a quicker reaction time than needed for the Sirius.  But this is a responsive boat, so a little edging and maybe a bow rudder, and I could stay on a wave.  I would rather use edging and strokes than a bunch of skeg, but I tested the skeg in these conditions seemed and it seemed a little wimpy.  I am waiting to see how it performs in more stormy, rear-quartering conditions, before I decide that the boat is under-skegged.
I also was fortunate to visit Nigel and Kristen's shop in Savannah.  Behind their artistically renovated bungalow, they have built a small but seriously well-appointed shop in their garden.  On one side of this pavilion is their large fleet of tour boats, on the other is the full line of the gorgeous Tiderace sea kayaks.  Unfortunately, I didn't have the time to demo any of these gorgeous boats.  But maybe that wouldn't have been a good idea after just buying a new Cetus LV.  Inside the shop is the full line of Mega surf kayaks, a very high standard of gear, and samples of Nigel's artwork.  It's a really impressive oasis, but I'm glad I escaped before I got in any worse financial trouble.  I would recommend a visit, but call first to make sure they are not out on the water with a tour group or lesson.
-John