Updated 4:00 PM 3-18-2011
I've been watching a few Youtube Channels to see if any videos made it up, no luck yet, but I did see these photos from Caroline via Facebook this morning. These fotos are from yesterday. Today is shaping up to be way more stormy and Lake Michigan like.
That swell report proved to be accurate. Wow! That has to be at least an 18 foot wave with an offshore wind. The photos are from Caroline Janganant of John Bonaventure surfing Steamer Lane.
Can't wait to see some more photos and video. Hold tight.
Note you can click on the images to get a larger view of them.
Check out today's photo's from Steamer Lane from Mickey Stowell.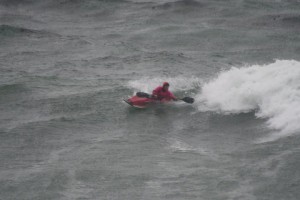 Not sure, but I am about 98% sure the surfer in the blue boat red helmet is Dave Johnston!